Welcome to Magic BM Trading Co. Ltd.


We are one of the largest beauty supply wholesaler in Canada, providing wigs, hair pieces, hair & skin care products, barber & salon supplies, and general merchandises over 17 years.

We have a 55,000sq. ft. warehouse , national sales networks, prompt delivery system and we keep direct relationship with over 150 maunfacturers. Our product line consists of more than 12,000 different items that are directly provided by manufacturers across the world. As a leading beauty supply wholesaler, our goal is to increase your profits and to support your business.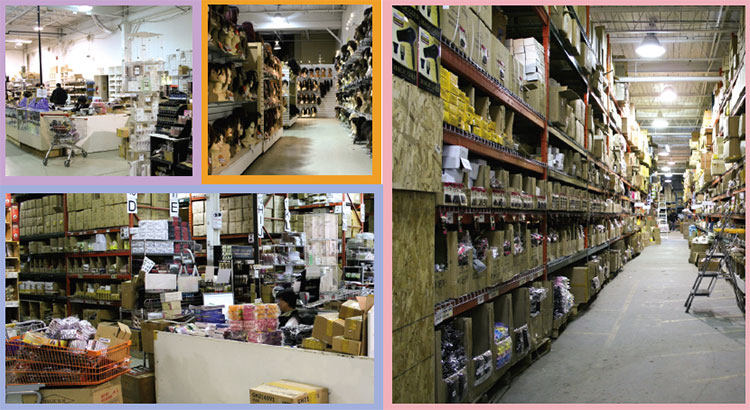 Our strength is providing our customers with beauty products they may need at the best price. Our enthusiastic sales team keeps in contact with our customers by regular visits and phone calls to inform them about the latest products and trends in the market. Join our team and let us serve you.

Also, visit our warehouse located at 140 Wendell Ave. in Toronto and enjoy our ultimate one stop shopping experience. You can browse new products, speak with our friendly and educated sales representatives, and shop for anything you may need on site.

We update and distribute our main catalogue every year and sales flyers monthly. Our catalogue, which includes all our products, is well organized so you can find everything you need. Our monthly flyers include the newest products in the beauty industry and amazing promotions that will save money. You can also view our monthly flyers on our website. If you would like to an updated catalogue or monthly flyer, please contact us and we will gladly send you a new one.

With the largest product variety, outstanding customer service, and affordable prices, you can rely on Magic BM Trading Co.,LTD. to support you every step of the way.

Thank you for your business.


Everything you need to know
1. For our new customers
To open an new account with Magic BM Trading Co. LTD.. please send us a copy of your business license and your business tax number by fax at 416-256-9288 or email at magicbmmiracle@gmail.com for preliminary business address check-up as we limit opening new accounts for certain areas and for home-based businesses.

Please contact us by phone or email for further inquiries.


2. How to order
1) Phone:
Please have your item numbers, description, size and quantities ready when you are calling us for an order.

Phone: 416-256-9588

2) Fax:
Please fax your list of item numbers, description, size, and quantities to: Fax: 416-256-9288

3) E-mail:
Please email yours list of item numbers, description, size, and quantities to: magicbmmiracle@magicbm.com

3. How to pay
All accounts are considered as C.O.D (Cash On Delivery):
We accept cash, credit card, wire transfer, money order, or certified check. Payment by your company check requires pre-authorization of our office.

To receive credit terms, you must establish a sound purchasing pattern for at least a year with us and requires our head office approval.

4. Shipping and handling
Shipping is done through 3rd party commercial truck carriers in either loose number of cartons or by pallets, depending on the size of an order.

Every shipment is considered as dock-to-dock unless specified; extra charges may apply for special services including, but not limited to, inside delivery and heating charges. We also offer local delivery service with our own van.

You can always visit our warehouse and pick up your merchandise. Magic BM Trading Co. LTD.. floor staffs will gladly assist you to load your vehicle.

5. Warranty
There are no warranties, which extend beyond the manufacturers description on the label of each product.

6. Liability
Magic BM Trading shall not be deemed responsible nor held liable for any damages or claims for injuries, whether intentional or accidental, relating to the misuse of any product.

7. Pricing
Prices are subject to change without notice and goods will be billed at the price in effect the day of shipment.

8. Claims
All claims on damages, shortages, and/or incorrect products must be made within 2 days of delivery, please notify customer service immediately upon receipt.

9. Return Checks
Any return check will involve a service charge of $20.00 and it may cause removal of merchandises.

10. Past Due Account
This may result in transfer of your account to a 3rd party collection agency and/or any legal actions that Magic BM Trading might pursue. Please note that Magic BM Trading holds the right to collect the merchandises remaining in your store when your account is in a credit problem.

11. Quantities
We reserve the right to limit order quantities.

12. Order Cancellation
Cancellation of an order or removal of products that are already packed will result in a 10% re-stocking fee. Please note that your account will be suspended until you clear the re-stocking fee.

13. Returns & Exchanges
No returns are accepted after 7 days of purchase. You must present your invoice copy and get pre-authorization from our credit department. All goods must be in the original case and in the "new" condition as it was sold. All returns will be granted a company credit and there is no cash refund.


- Wigs and other hairpieces are non-exchangeable/non-refundable.
- Electronic machines are subject to 1 year warranty. Depend on the manufacturer's warranty policy, product may be directly exchanged by us or you may need to contact the manufacturer or their service centre directly.


14. Trucking & Damage/Shortage Claims

1) First, you must certify that pallets are intact, check for any damages, and count the total number of cartons.
2) Shortages of cartons, damages, or any problem details must be written on the bill of lading. You must have the truck driver sign the bill of lading and keep a copy.
3) Without truck driver's signature on the bill of lading, our company will not be responsible for any damages or shortages from the shipment.
4) Please fax the copy of bill of landing to 416-256-9288. You are allowed to claim the damages and shortages within 2 days after the shipment day. No claims are accepted after 2 days.
5) Please remember that you can always refuse any damaged boxes to the truck driver, but be sure to get it signed before handing it over and notify our company.


15. Business Hours
Mon-Fri: 9am-6pm
Sat: 9am-5pm

16. Questions, Contact us.
Phone: 416-256-9588
Fax : 416-256-9288
Email : magicbmmiracle@gmail.com


Magic BM Trading Co. Ltd.
140 Wendell Ave Unit #3
Toronto ON M9N 3R2
Canada
Google Maps